Artist of the Month
Comments Off

on Artist of the Month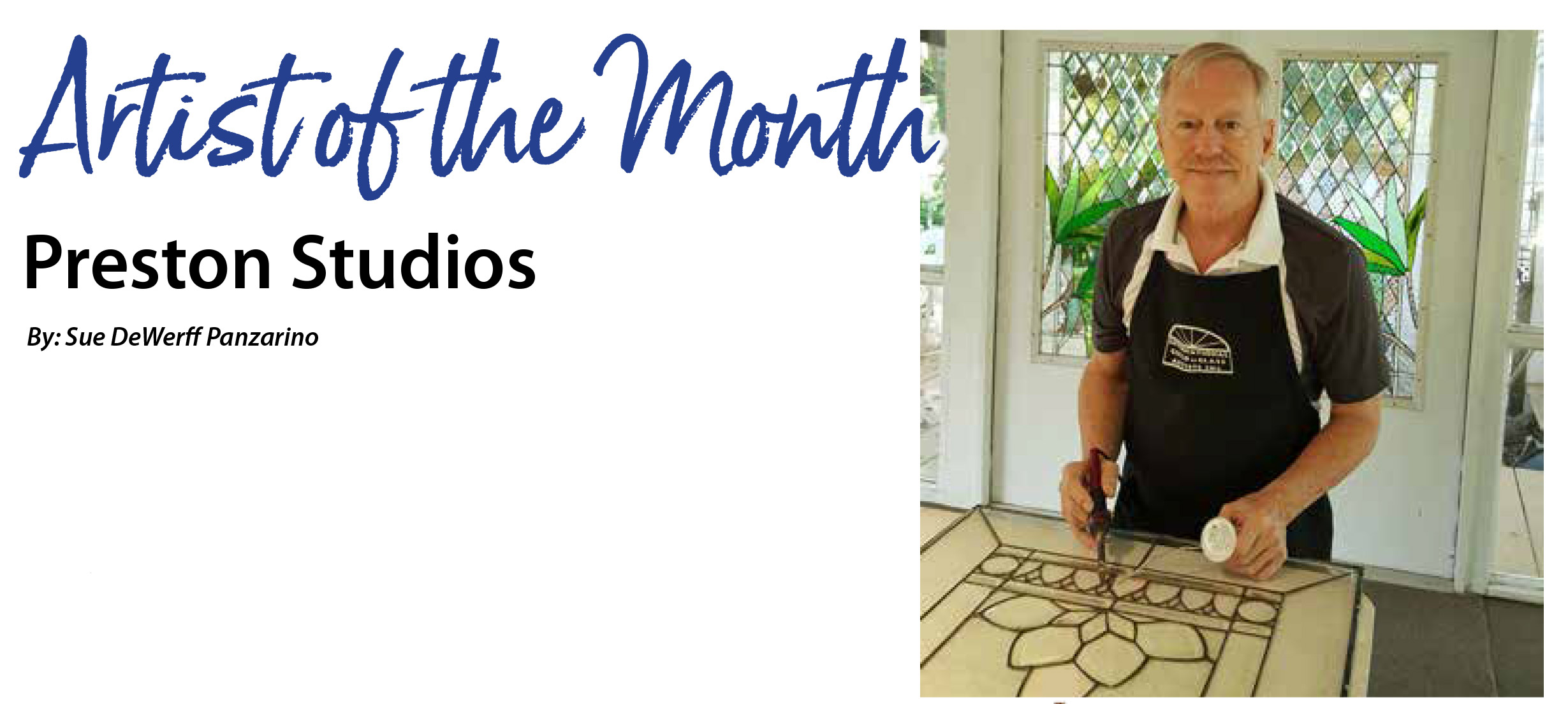 For more than four decades, John Emery, (the forest guy, creative and promotional power) and Jerry Preston, (the senior partner, tree guy and all important technician) of Preston
Galleries in Melbourne have been creating exquisite stained-glass windows, lamps, skylights, kitchen cabinet doors, entrance way designs and more that have added "enduring elegance" to homes, businesses, hospitals, galleries and even castles around the globe.
Known for their ability to design for unique, one-of-a-kind art that emphasis the period and style, their goal as artisans has always been to commit satisfying their customers.
"Jerry is the guy that cuts the glass, and has the last word on the revisions, while I tend to be the overall designer and the marketing person," said Emery.
"Our overall style can be described as a patron intensive approach, always taking into consideration the best options for design for our commissioned work," said Emery.
After meeting in Satellite Beach back in 1976, the duo, both self-taught as stained-glass artist, initially enjoyed the work as hobbyist.
When they formed the partnership together, there fi rst venture was the creation of one-of-a-kind original lamps, inspired by the "Tiff any" tradition. They began selling them, along with window designs at several U.S merchandise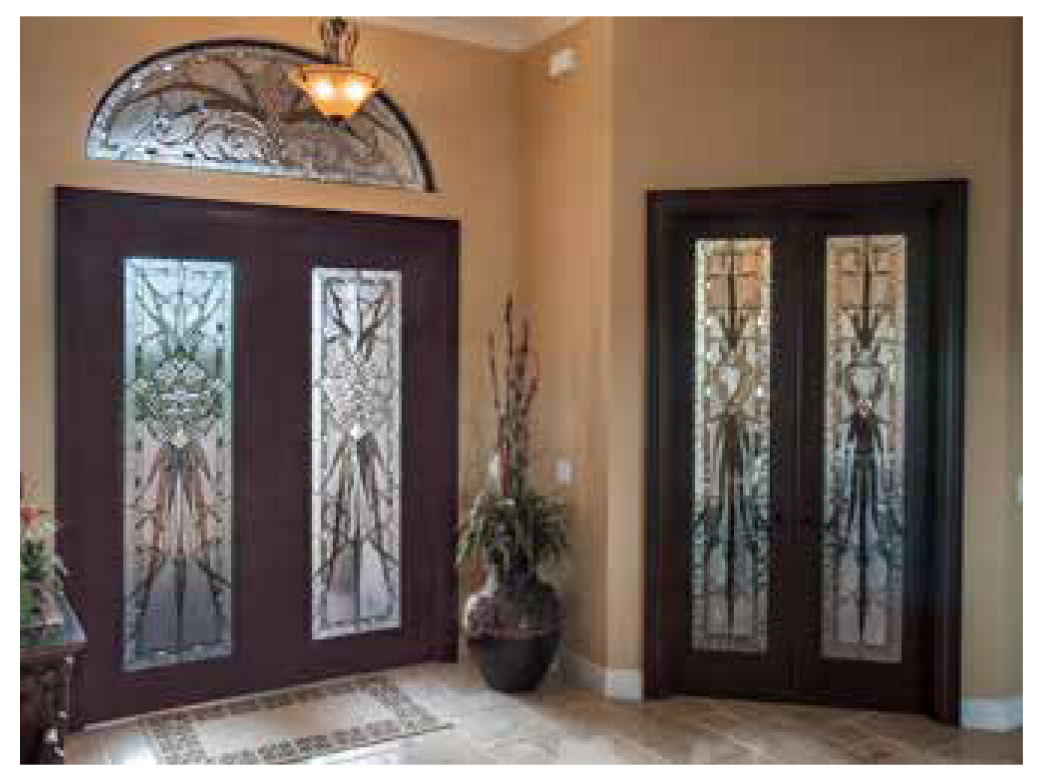 in the late 70's.
The lamps, featuring flower inspired patterns of Iris, Calla Lilies Morning Glories and even Angel Trumpets, (which now grow in back of their studio in Melbourne), have become a big hit with collectors throughout the past forty years, and are deemed by the artists as a sort of staple of their works.
"Our focus back then was to seek out and use glass as close as possible to that seen in Tiff any lamps, using rich and varied colors, with textures and both light and dark shades found within a single sheet, allowing for subtle shading. Though we have since moved to a more
"European" approach for our designs, requiring the elements be painted and fi red in a kiln, we remain concentrated on achieving a natural balance in our work, both in composition and color," said Emery.
Preston Studios first big year doing commission work happened in 1982, when they landed a project with Aquarina, (a 200-acre development just north of Sebastian Inlet in Melbourne Beach.) "They contacted us to put forth a proposal to design five 3 feet by 4 foot stained-glass windows in the development."
"Soon after, the business took off and we expanded to commission work with several builders in Brevard, where we began to create entrance ways, doors, windows, skylights and more. As well as flower designs, many of these works portrayed native birds, flora, fauna, and other objects of nature found in the Space Coast," he added.
Preston Studios work can be found in such noted gathering places throughout Brevard as the Henagar
Center in Melbourne to the Foosaner Museum in Eau Gallie— and globally to the Hearst Castle in California and Palace Ledreborg in Denmark. The combination of their educations and passion for what they do has worked well according to Emery.
Emery, a history major and Preston, who got his degree in Business Administration, said this may be why their paring has seemed to meld well. Additionally, they both enjoy getting involved in the community, having donated various stained glass works to multiple charity events and museums throughout Brevard and beyond.
"Not all projects are large either. Lightboxes, mini-lamps, or even kitchen and bath cabinet doors or wall and ceiling hangings, can add elegance and color to any room or setting," said Emery. One of the most unique creations Preston Studios made for a fund-raiser sponsored by the Brevard Symphony Orchestra in 2003 was a stained-glass violin.
The flower motif design was one of a dozen entries, and was auctioned later at the King Center for Performing Arts. "Art is relaxing, calming and rewarding all together," said Emery.
"Our work has to do with longevity, and you have to have purpose," something we strive to do with our stained-glass creations," said Emery.